Technology has become more and more a part of our everyday lives, but
it has also become increasingly more distracting. The goal with Omni was to
create a product that adapted and learned from the user to the point where the
technology became transparent. This project takes one of the original wearable technologies, headphones, and brings them up to speed with today's fast paced and endlessly connected society. Nonetheless, this project is still focused on the core purpose of headphones, to listen to music.
 
John C. Koss created one of the first pairs of stereo headphones, designed specifically for music consumption, in 1950. You plugged them into your record player to enjoy music in solitude while sitting on the couch. People have always liked controlling their environment, however, circumstances have changed.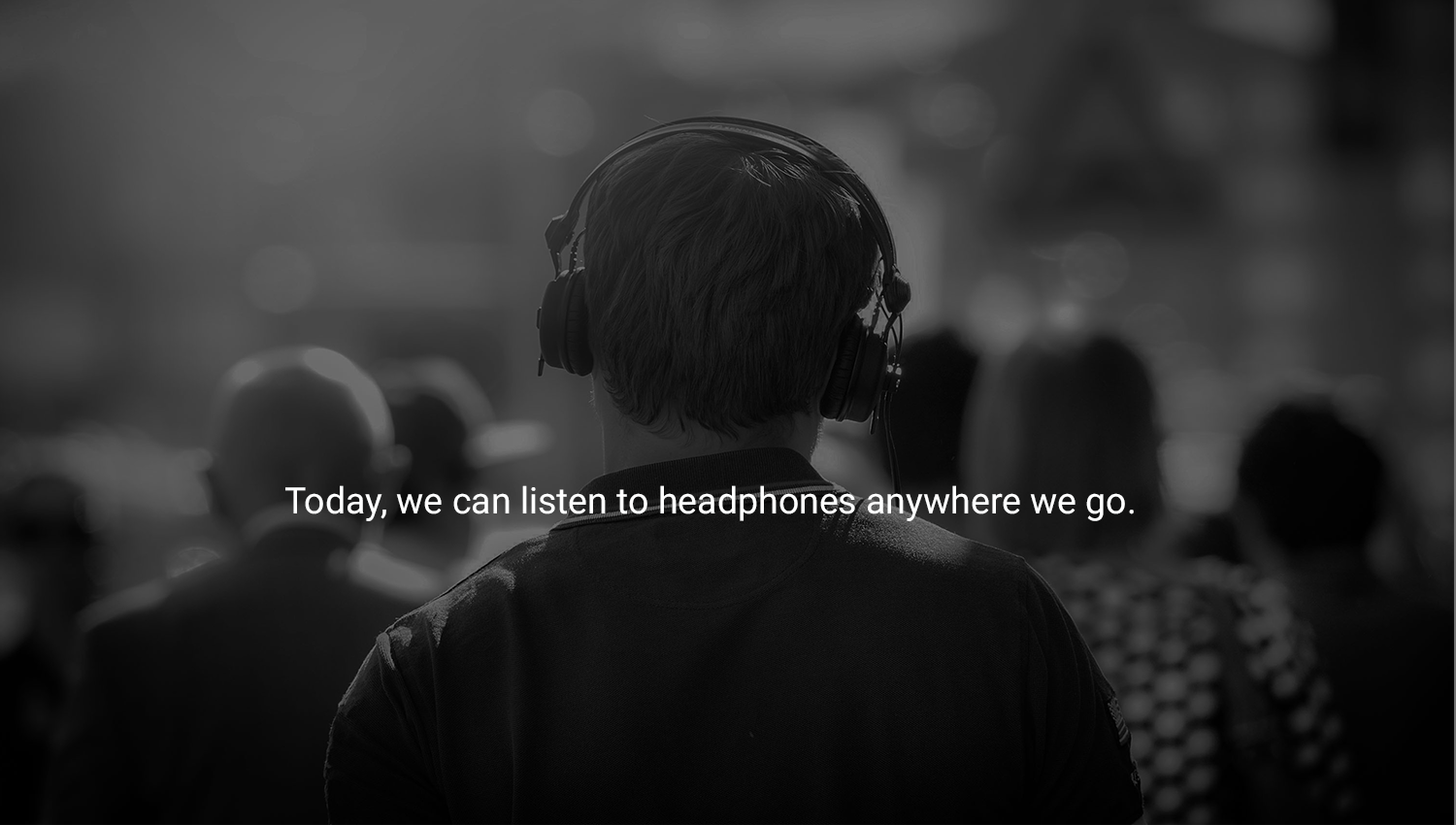 The release of the iPhone in 2007 was when people started to take advantage of smartphone music capabilities. It made music conveniently more accessible, allowing you to listen anywhere at any time. While this may be a positive thing in many situations, it can also be a negative one, especially in busy environments.
We like to block out the world and allow our music to take us somewhere else. This is especially evident on the streets in large cities where it can seem impossible to find privacy from everyone around you.
Wearing headphones while working has reached the point of habit for most, but some studies suggest listening to music while working decreases productivity. However, it is also known that music promotes relaxations and increases mood, which can lead to positive results.
Depending on what you are doing, your brain is either in the default mode network or task positive network. It is known that you are in the default mode network while sleeping and it has recently been discovered that listening to music puts you in this state of mind. It is because of the default mode network that music encourages a positive mood, which can increase creativity. However, we don't want to be walking around busy streets in this state of mind. We want to be in the task-positive network, but unfortunately, the two networks cannot exist simultaneously, we can only switch between them.
I want to give headphones situational awareness. By adding a software component, I will create intelligent headphones that understand you, and the world around you.
Most of the headphones that fall under the wearables category, or hearables as they are now being coined, are mainly focusing on the health and fitness areas, with the exception of the Doppler Here. They are feature packed with lots of new interactions. Omni will be lifestyle headphones that limit the need for interaction, allowing the technology to understand what to do in a given situation.
Music fills their day. They listen during their morning run, during their commute to and from work, and to concentrate while working. They love the excitement of the city but savor their time in solitude. They are minimal in their possessions, owning only everyday essentials, but ensuring they are high in quality.
I was able to envision the experience of using a pair of headphones that could understand your environment and learn, but I needed to confirm it was possible.
KEY ASPECTS OF CONCENTRATION
Through my research and conversations, there were reoccurring topics around the safety issues of wearing headphones; the habitual use during certain tasks/activities, and wearing headphones can be considered anti-social.
UNDERSTANDING ENVIRONMENT 
THROUGH SOUND
Omni understands when you are transitioning from one environment to another based on changes in decibel levels.
Based on your initial day-to-day interactions and inputs into the OmniPresence application, your attention will no longer be broken by meaningless notifications.
DON'T IGNORE YOUR NEIGHBOR
The next time someone stops you to ask for directions, not only will you hear them the first time they say, "excuse me", but you will be able to have a conversation without pausing your music, or removing your headphones.
Music has the ability to put you in your own world, but there are times when you need to come back to the real world. Omni allows you to be 
i
n
the moment everywhere, at all times.

CREATING A NEW EXPERIENCE
OmniPresence is a context-awareness application, meaning it uses the phone's GPS, accelerometer, and the microphones in Omni, to get a sense of your environment. There will be a period of initial setup where OmniPresence learns about your daily routines involving Omni. Once it gets a sense of who you are, there will be very little need to interact with the application. When interaction is required, the application is clear and to   the point.
Technology has come a long way, allowing us to cram high-powered components into small spaces. Having the main housing of the headphone sit completely within the ear cavity is a new style of fit we are starting to see with Bluetooth headphones. Not only is it a fresh look, but it also creates an opportunity for new interaction with controls.
PROTOTYPING AND MODEL MAKING
I carved multiple iterations of a form until finding one that comfortably fit. The model was then 3D scanned into CAD where the final details were added before having them 3D printed.
The aesthetics of headphones has evolved into a fashion statement. With people spending so much time wearing them, it only makes sense that they should look appealing. Omni attempts to border on the line of jewelry.
Omni is intended to be your go-to headphones for all day use. Drawing inspiration from the Apple Watch, you will have the option between three different lanyards to accommodate different situations. The leather and fabric options are for casual 
uses
 while the rubber is more robust for sport-type uses. The lanyard allows you to comfortably wear Omni around your neck when not in use and you can even wear just the lanyard while Omni recharges in the case.
A lot of time is spent using headphones while on the computer. To avoid having to recharge Omni in the case when the batteries are low, the USB charging cable for the case can be plugged into a port on the lanyard. Also, this port opens the option for a 3.5mm audio cable accessory for Omni to be used with devices that don't support Bluetooth.
Omni's case not only stores the headphones and lanyard but also can recharge Omni multiple times throughout the day.
ALWAYS IN TUNE WITH
YOUR SURROUNDINGS
 The outward facing microphones interpret your environment and grab your attention when necessary.
No major changes were made to how you control your music. Swipe up increases volume, down decreases volume, tap once to pause, twice to skip a song, three times to go back a song, and tap and hold prompts, Siri. The only new interaction is a swipe forward to override audio transparency, or a swipe back to turn it off.
NEVER PAUSE THE MUSIC OR
REMOVE YOUR HEADPHONES
The bone conduction microphone is used for calls. Its other important function is to recognize when you are in conversation, telling the audio transparency microphones to continue to listen to your environment.